What's Valentine's Day without roses, candy and, especially, hearts? The symbolism is overwhelming and leaves little room for misinterpretation. If you see a heart during the first two weeks of February you know what to think. Right?
What's love got to do with it?
Swimming against this rushing romantic river is the American Heart Association who, along with the U.S. government, has designated February as American Heart Month. When the AHA shows a heart in February they're being a bit more literal. Carving out visual space for the actual organ this month is a Herculean task.
Maybe the thinking is, "if you can't beat them, join them." Or, maybe the heart lobby is being ironic. More likely, American Heart Month has been swallowed up by the marketing frenzy that now surrounds every modern holiday. American Heart Month was first proclaimed 1963. A lot has changed in public relations, marketing and advertising in those 57 years, not the least being a proliferation of heart-related images afforded by ubiquitous media.
The efforts of the American Heart Association are laudable and illustrative. They point to a challenging aspect of communication—the use of images in shifting contexts.
Social Backdrop
There is no universal visual literacy. Unlike written language and mathematics, we don't learn strict grammatical formulations about images. Romance =♥. The heart shape almost universally stands for love in our culture. The shape of that love, the emotion involved, is not so clear. Hearts can be puzzled, incomplete, committed or caged.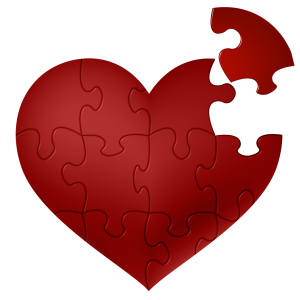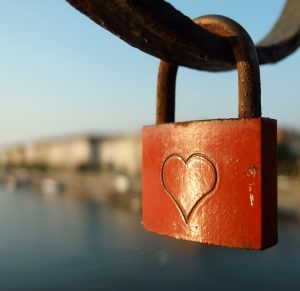 There doesn't need to be a romantic connotation at all. Do the hearts below express affection, whimsy or health? Or, do they point to reading, nature and cooking?
Designer and architect George Nelson identified "social context" as a necessary ingredient to understanding an image or design:
"In visual reading, like verbal reading, the completeness of the reading relates directly to the quality of the reader's stored information…it uses a code or language which has to be intelligible to the receiver."

How to See p. 17
Images rarely communicate on there own. Without formal grammar, images depend on context to inform their meaning. Context is derived from a myriad of sources. Accompanying words, common uses, cultural symbology, literary references, technology, fashion and more all inform how we "read" an image.
Timing
Timing is another element that affects context. An image of a pumpkin signals something different around Halloween than it does around Thanksgiving. Just as the image of the heart means romance in the weeks leading up to St. Valentine's Day.
Choosing the right image infuses our communication with near instantaneous emotion, identification, interest and other connections that are increasingly difficult to achieve with words. If we want maximum impact, we must keep an eye on the ever-shifting social contexts that inform the images we use.
May your heart find love and health this Valentines Day!
Feature photo by Karolina Grabowska
More Ideas