It's easy to assume that phrases like "health care plan" and "long-term disability" will draw great people to your company like a power outlet at a Starbucks. But, to the average person, employee benefit program names are jargon. Insurance is boring, few people understand it and health care gets a bad wrap anyway.
Don't lose your audience by droning on about what benefits you have. Instead, connect with your employees by emphasizing how these programs make their lives better.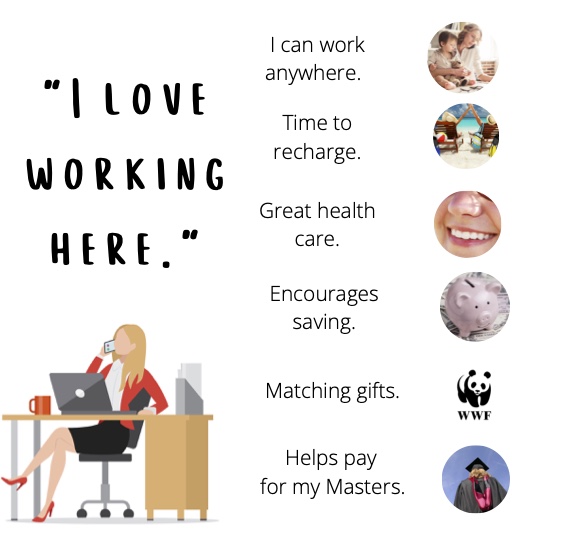 Benefits vs. Features
Your employee benefits are not really benefits of working for your organization. They're features of working for your organization.
Technically, yes, a "benefit" can be defined as "a service (such as health insurance) or right (as to take vacation time) provided by an employer in addition to wages or salary."
But, if we take more of a marketing perspective, a "benefit" is really something that improves your life while a feature is more like a fact.
For example, the triple-camera is a feature of the iPhone. Being able to capture beautiful images in low light is one benefit of that feature.
Now, let's say a recruiter is chatting with a potential candidate about working for your company …
Candidate: "What kind of benefits do you offer?"
Recruiter: "We offer three health care plan options, prescription drug coverage, a health savings account, dental, vision, disability insurance, life insurance, paid time off and a 401(k) plan with a generous company match."
While the recruiter thinks she just gave a list of "benefits," she actually just relayed a list of features.
To get to the actual benefits, you have to answer some questions:
Why does your organization offer each benefit plan in the first place? (The answer shouldn't solely be "to compete with other employers for talent.")
How do these offerings connect with your employees' hopes and dreams? In what ways do they make the individual's life better?
Once you've answered these questions, the recruiter's response to that recruit might be more like this …
Recruiter: "We have many affordable ways to help you and your family get and stay healthy, a number of programs that protect your income if you get sick or hurt, paid time off so you can relax and recharge, and a generous plan to help you build wealth for retirement."
This response is still a bit generic but isn't it a little more appealing?
When you think about your organization's overall benefits package, there may be more distinctive benefits you can elucidate. Maybe you have an innovative package of voluntary benefits or a plan that helps with student debt. The trick is to get past the plan names, understand your audience, and restate your results in a way that connects on an emotional level.
Let's Connect
Do you have a unique way of highlighting the real benefits of working for your organization? Are you looking for a little help? We'd love to hear from you.
---
More Ideas