Even before COVID-19, employees were struggling to navigate our "always-on" work-life world. Lockdowns and worksite closings have only made it worse. If burnout, stress, and illnesses are taking a toll on your organization, supporting your employees' total well-being can have a real impact on their productivity, engagement, and loyalty.
How organizations communicate their commitment to employee well-being is varied and unique — as it should be. If you're trying to get your arms around the concept of total or holistic well-being, here are some questions you might want to consider.
What is "well-being"?
There's not a generally agreed upon or scientific answer this to this question. But here's a simple definition you can start with: Well-being is a positive and meaningful perception that one's life is going well. Easy enough!
What is a "holistic model for well-being" when it comes to employee benefits and the workplace?
At Smith, we think it means designing an overall employee experience that helps employees manage the wide range of issues and concerns they face and ultimately feel more protected, secure, and cared for. Sound unwieldy?
What are the components of holistic well-being?
Because there are so many issues and concerns that can affect one's well-being, it can be helpful to categorize them. Following are a gathering of various components of well-being, their basic definitions, and examples of employee benefits and programs within each. In our experience, it is unusual for any single employer to use all of these various components. It's more common for an organization to consolidate these various categories into a smaller, memorable set of three, four, or five.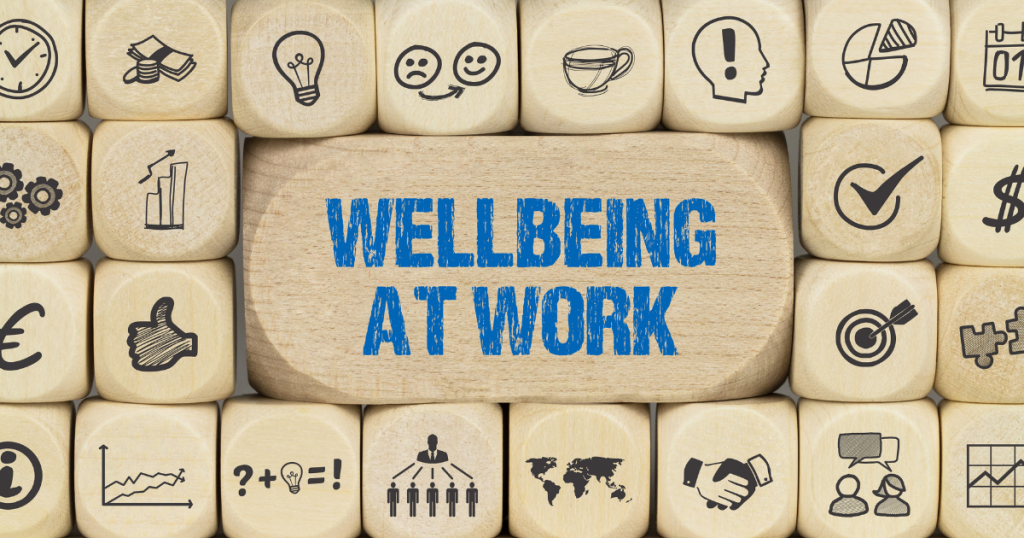 Component
Definition
Benefit Examples
Community
Connectedness to and participation in one's
community; good citizenship; availability of
support and strong, functioning social networks
Corporate matching gifts
Support for volunteerism
Time off for voting
Political action committees
Environmental
Good stewardship of natural resources;
respect for surroundings; making connections
between the physical environment
and personal health
Recycling programs
Healthy working environments
Ergonomic work stations
Waste reduction campaigns
Family
Having strong and positive marital,
parental, sibling, intergenerational,
and other familial ties
Paid parental leave
Family and medical leave
Adoption/surrogacy reimbursement
Reproductive assistance benefits
Pre-natal and parental coaching
Employee assistance program
Pet insurance
Back-up care
Dependent care flexible spending account
Financial
A sense of security that comes from
feeling one has enough money
to meet their personal and family needs
Retirement programs
Health savings account
Flexible spending accounts
Life and AD&D insurance
Disability insurance
Business travel accident insurance
Financial counseling/planning
Paid leave benefits
Voluntary insurance programs (critical illness, hospital indemnity, cancer)
Identity theft protection/insurance
Subsidized care options
Prepaid legal plans
Intellectual
Cherishing mental growth and stimulation;
having an open mind about new ideas;
seeking ways to expand knowledge and skills;
engaging in creative mental activities;
exploring one's own potential;
sharing one's abilities within the community
Training
Mentoring
Job rotation
Temporary assignments
Student loan benefit
Mental
Having thoughts, moods, and behaviors
that allow a person to realize their
own potential, cope with the normal
stresses of life, work productively, and
make a contribution to the community
Employee assistance program
Counseling/therapy benefits
Vacation, personal days, paid time off
Flexible work arrangements
Occupational
Making use of one's skills and talents
to gain purpose, happiness, and
enrichment; ability to achieve a
healthy work-life balance,
manage workplace stress, and
build relationships with bosses
and coworkers; integrating a
commitment to one's occupation
into a satisfying and rewarding lifestyle
Training/development
Mentoring
Student loan benefit
Service awards
Rewards and recognition
Career support/development
Performance management
Physical
Ability to live a lifestyle that is
not hindered by illness or injury;
making behavior choices to
ensure health and avoid
preventable diseases and conditions
Medical
Prescription drug
Telehealth
Dental Vision
Fitness reimbursement
Wellness programs
Social
Ability to form satisfying
interpersonal relationships
Diversity and inclusion programs/policies
Employee affinity groups
Employee assistance program
Spiritual
Ability to experience meaning
and purpose in life through
a connection to one's self or a power greater than oneself
Holidays
Bereavement leave
Flexible work arrangements
What is a possible approach to communicating your organization's approach to holistic well-being?
Consider which sounds more compelling to an employee:
"We support your total well-being."
— or —
"We support your total well-being, including your physical, financial, and personal health."
The second statement makes the nebulous concept of well-being a little more clear and tangible. Used consistently, alongside actual benefits and programs, each label can trigger employees to think of the comprehensive nature of your offerings and their long-term value.
Many organizations I've served use the labels above (e.g., financial) or one's similar to them (e.g., money). Here are a few simple steps to finding the right terminology for your organization.
List all your benefits programs, policies, and other offerings. Don't overlook those ergonomic desks!
Sort the list by grouping similar items. For example, put health care programs together. Try to create enough distinct, meaningful groups; eliminate empty categories, consolidate nearly empty ones.
Come up with a brief description of each group.
Give each group a generic name (for now).
To find your final category names, refer to your organization's brand identity and culture for inspiration. You don't have to stick with the generic terms (like physical) and you probably want to avoid overly clever and vague terms (like vigor) but, ultimately, you want a clear and distinctive list that makes particular sense within your organization.
Let's Connect
Are you struggling with articulating a clear and compelling approach to total well-being? Do you have a unique approach of your own? Please share your story with us. If you'd like some help, let's discuss it over a kale smoothie.
More Ideas