We've all heard about snackable content⏤six-second videos, memes, SMS surveys, etc.⏤short, dynamic, often interactive, content packets meant to entertain or entice audiences toward further engagement. All good.
Snackable is a huge part of social media content marketing. It's especially effective for mobile, consumer audiences. We create snackable content for our clients to help drive employee engagement and to push specific campaigns, like annual enrollment or wellness initiatives. For internal audiences, the goal of snackable content is not entertainment. It is to promote long-form content designed to forward important organizational goals.
Think of it more as an appetizer. Because sometimes you need a little more to chew on.
Slow down, take time, dive deep.
Only small bits of information are presented in snackable content. However, many topics worth communicating to employee audiences are significant⏤situated in organizational history, strategic thought and planning. Consider the communicative value that is lost when much of the exposition and reason underlying decisions is left blank. We are living in an age when audiences want more information, not less. The same is true for employees. Better information, better engagement.
Sure, long-form content takes a little longer to consume, but the payoff is worth it. There's time to dig a little deeper. There's time for managers and employees to broaden their perspectives on the inner workings, challenges and strengths of your organization.
There's time for long-format podcasting.
A long-format podcast engages the listener with conversations that either thoroughly cover a topic or continue as ongoing discussions. There are many ways these conversations can be formatted. They can be 10–15-minute episodes serialized for as many as necessary to cover the topic; regularly scheduled ongoing conversations lasting 20 to 30 minutes; or 60-90 minute panel discussions about very technical subjects. Time is not the issue. Depth is.
Side-by-Side (a demo)
Below I found two pieces of content that promote long-term savings for and financial independence for younger people. The first is from financial trainers and authors, MyFi, Inc. They created a "snackable" video illustrating a familiar truism of saving and compounding interest to promote their book and services. The second is a podcast episode from the "About to Launch" podcast, a very successful financial podcast created and hosted by Jamila Souffrant.
Check them both out and consider which one would best drive employee participation in a 401(k) or other ESP.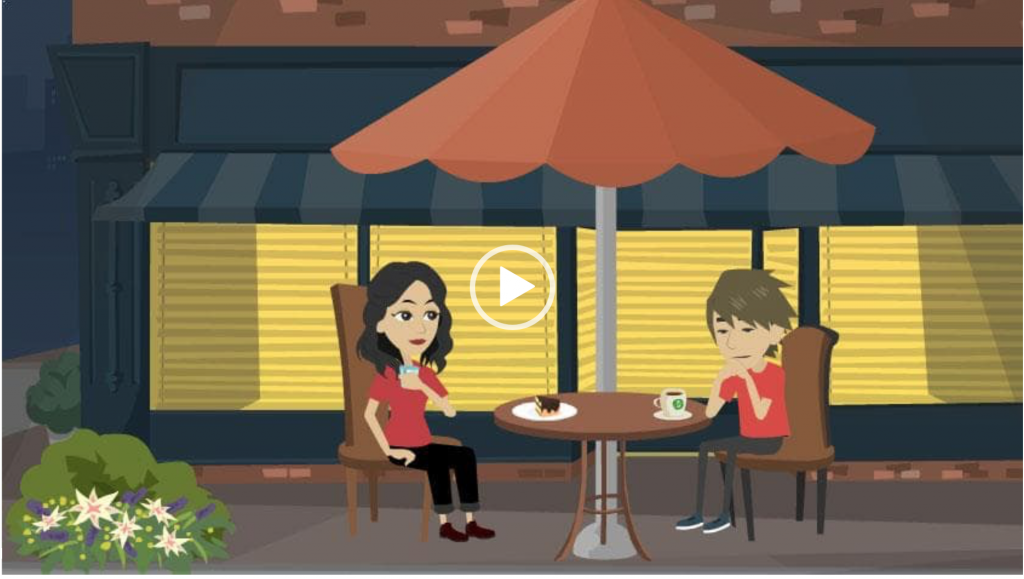 Podcasting is now.
When they first started, podcasts were an obscure way to listen to audio files on devices, like Apple iPods. Early content was generally repurposed from public radio, sports radio and other talk radio programs. Universities also made educational resources available in the form of lectures and seminar discussions.
Two things happened over the past fifteen years to help push podcasts to the upper tier of popular digital content. First, there was the explosion of smart phones. Remember it wasn't that long ago when most people only had cell phones. Then came the DIY movement popularized on YouTube, whereby everyday folk demonstrate their talents, discuss their interests and chime in on subjects they care about. Podcasting, both video and audio, emerged within these trends.
Only five years ago, creating a great-sounding corporate podcast meant renting, or creating, a designated recording studio space. This made podcasting expensive, unwieldy and difficult to coordinate.
Today, podcasting is very accessible. Technology has evolved on similar tracks to other cloud-based collaborative tools like Zoom. Smith uses technology that allows our clients to create great-sounding podcasts from the comfort of their office or their home. The recording is done remotely, with Smith production staff and consultants. Prep time is minimal and editing tools allow us to turn around complete episodes quickly. We also host client podcasts on secure, private platforms so client content is only viewed by intended audiences.
Where podcasts can help.
Areas within your organization that require deep knowledge, cross-departmental understanding or increased transparency are excellent candidates for podcast conversations.
Setting Direction: Top-level decisions are often disseminated through various indirect channels resulting in incomplete information and decisions that appear devoid of supporting facts and logic. A regular C-suite podcast can put everyone on the same page, understanding not only the direction of the company but how and why a decision was reached.
Educating Employees: Employee education is a never-ending process. Information is only part of the education process. Other important aspects of effective learning involve presentation, accessibility and engagement. Whether the subject is changing processes, organizational transformation or employee benefits, creating a podcast can help support your internal educational goals.
Increasing Collaboration: Does your left hand know what your right is doing? In large organizations, the answer is very often "no." New ideas emerge when new inputs and perspectives meet existing knowledge. Opportunities to collaborate toward innovation are often missed because of a lack of cross-departmental communication. Challenges like a silo-mentality that ends in groupthink and even inter-departmental obstruction can be transformed through conversations dedicated to cooperation.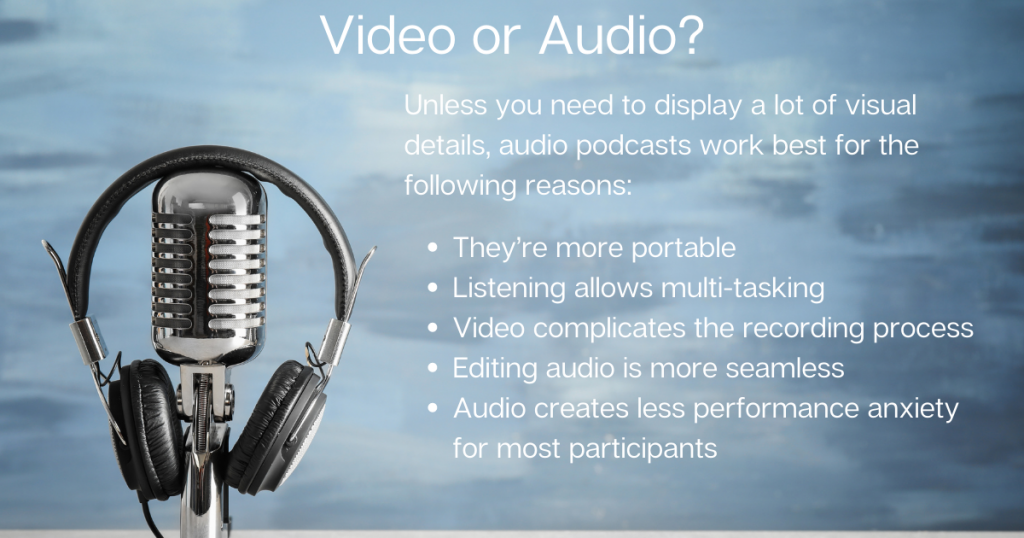 Five Styles of Podcasts
Interview: The interview is a very familiar style of podcast. A host asks questions of guests, often subject matter experts. (Clients have used these to help explain difficult legal and investment issues surrounding retirement.) The person conducting the interview needs a solid understanding of the subject to get the most from the guest. Loosely scripting these talks can be very useful.
Panel: This style of podcast is well suited to highly technical issues and for collaboration. Panel discussions should have a moderator/host and subject matter experts with different perspectives. One key benefit of the panel discussion is that knowledge is spread across various panelists. This takes the content load off any single person, and it often leads to surprising new perspectives and shared understandings.
Solo: While this style has the advantage of being the easiest to schedule, produce and edit, the presenter has a difficult job. The solo presenter must hold the attention of the audience without any help. Unless you have a very talented speaker on staff, this podcast is best suited for CEO or other high-level executives. However, beware of over-exposure for key executives. A frequency of quarterly or monthly podcasts is best.
Ongoing Conversations: Unlike a serialized topical discussion, these podcast don't have an end. The idea is to have two or three trusted voices that become familiar fixtures within the organization. Ideally, they each bring unique, yet complementary, perspectives. For example, one person may continually take the side of the customer, while the other the side of production or marketing. Together they work through challenging issues from familiar perspectives.
Any department can host its own podcast; e.g., HR, Compliance, Marketing, Research & Development, etc. Because audiences can be very targeted, there is no need for the entire organization to hear every show. Depending on the amount of information you need to cover and the pace of change, weekly or monthly episodes can be a part of employees' lives.
Repurposed material: This style of podcast allows you to assemble company talks, learning sessions, outside presentations, videos and other material that different departments generate. Transforming this existing content can eventually create a singular archive for preserving organizational memory and tracking transformation.
Getting Started
Smith can help your organization strategize and implement your internal podcasts. Contact us; we'll listen to your specific needs and give you a more detailed presentation of our ideas and capabilities.
More Ideas